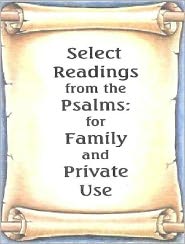 It's 1908 in Edwardian England and Anglican Churchman Joseph B. Mayor has had enough of the "Fire & Brimstone" contained in many passages of the Hebrew Psalter – aka: Psalms of David.
What to do? Write a book, of course!
This book will be a bit different from the Anglican Book of Common Prayer containing the standard version of the Hebrew Psalms. How so? One side will feature the standard Old Testament version and the opposing page will contain a revised version drafted by Mr. Mayor: "for home and private use" that is more in keeping with the message of Christ, his Apostles and the New Testament – in his learned opinion. It may very well be that Mr. Mayor's intentions for the use of his "Revised Psalms" were to be much more public than he lets on in his preface to the book.
The "tone" of the Psalms is especially important considering the fact that the Anglican Church (aka: The Church of England) at that time included a recitation of ALL one hundred fifty (150) Psalms in their weekly service. In fact, in the early days of the Anglican Church monks were required to learn by heart the entire Hebrew Psalter and a candidate for Bishop had to recite them out-loud in their entirety from memory.
It was in the early 17th Century that the King James Bible introduced a new version of the Psalms of David and the tradition of singing the Psalms in Anglican services began and carried well into the early 20th Century. Appropriately enough, the origin of the word Psalm is "Psalmur" – Greek for "song sung to a harp". Myles Coverdale ((1488–1569) produced the first translation of the Bible into English and his Coverdale Translation included the Hebrew Psalter found in the aforementioned Book of Common Prayer.
In general, there are two (2) types of Psalms: Individual and/or Communal and they typically include one or more of the following:
• An address to God
• A description of suffering
• Cursing of the party responsible for suffering
• Protestation of innocence or an admission of guilt
• A petition for devine assistance
• Faith in God's receipt of prayer
• Anticipation of devine response
• A song of Thanksgiving
The main sub-types of Psalms are:
• Hymns
• Laments (complaint)
• Royal
• Thanksgiving
• Wisdom
• Mixed
In particular, the Lament hymns that asked for devine retribution in grisly detail were intensely troublesome to the ears of Mr. Mayor and his fellow Anglican congregants. No doubt this was his motivation for offering his more "enlightened" or, as we of the 21st century would characterize them: "politically correct", version of the Psalms.
Now – as of May 2011, this very rare and scarce book published in 1908 is being offered for sale on all major online ebook retail venues for only $1.99.
READ A 1909 REVIEW OF THE BOOK FREE:
http://www.scribd.com/full/52857696?access_key=key-1owks84a91qwdg6xjq2e
READ THE PREFACE & PSALM ONE FREE (low-quality pdf file - actual ebook in high-quality epub/mobi digital file format/s):
http://www.scribd.com/full/54949688?access_key=key-1yfek1bw8ljjjjsnb6lw
ONLINE RETAILER LINKS:
* Barnes and Noble: http://search.barnesandnoble.com/Select-Readings-from-the-Psalms/Joseph-Mayor/e/2940012521637
* Amazon: http://www.amazon.com/dp/B004ZSYMWU
* Lulu: http://www.lulu.com/product/ebook/select-readings-from-the-psalms-for-family-and-private-use/15664816